February 2, 2010 Market Trends
The chart displayed is a regression analysis of sales in El Cerrito since 2006.  The sales data is expressed in $/sq ft of the houses living area.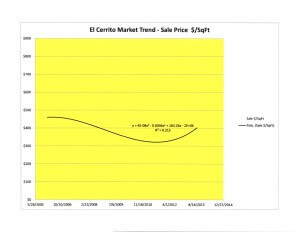 Values in El Cerrito  started dropping in early 2007.  It took until early 2012 for  prices to stabilize.     During 2010 the percentage of distressed sales was 20% compared to 4% today.   The prices are still not up to what they were in 2006-  about 10% lower, but the market is continuing to improve including both number of sales and sales prices.